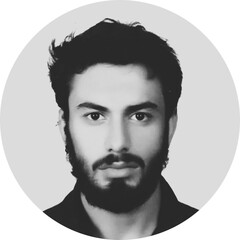 Can Arik
3D Artist / Digital Sculptor / Interior Designer
Berlin, Germany
Summary
3D Artist and Digital sculptor with an Interior design background in the 3D visualization sector, architecture, and gaming industry. Creative and detail-oriented 3D artist with a comprehensive experience in digital arts, including environment assets
design, character, character assets design, prop modeling, and texturing.
Self-motivated and hard-working professional accustomed to performing well under pressure and completing projects with tight deadlines. Able to promptly synthesize feedback and iterate work to create the desired final product.
I am looking for exciting opportunities in 3D design!
Skills
3D Modeling
Digital Sculpting
Interior Design
Space Planning
Software proficiency
Experience
3D Artist at Solo Dev

Singapore, Singapore

August 2022 - August 2022

Created assets of a tile-matching video game in the cyber security concept to increase company awareness in a humorous way.

• Modeled, sculpted, textured

3D Artist at Big Buzz Designs

Langley, Canada

August 2022 - August 2022

Textured props, which are Disney-like animal sculptures and airbrushed paintings, for the customer website of the company. Applied the texture to 3D models in regards to the concept art.

3D Artist at Tito's Studio

Paris, France

Created a PVP map for a tower defense game, which is developed by TITO's Studio.

• Modeled the whole city. Semi-modular assets, props, structures

• Modeled, sculpted, textured for UE4

3D Character Artist at Pro71 Studio

Berlin, Germany

Worked on a virtual influencer project with the company Pro71, which is the social media content is part of Prosieben.

• Posed the body and face of a character according to reference images, provided by the creative director

• Character alignment to backplate images and light matching with the provided HDRI

• Compositing and Post-processing to convince the integration of the rendered character into the backplate and create the final view of the image.

3D Character Artist at Solo Dev

Seattle, United States of America

Created two game-ready characters and props for a D&D-style RPG project. For a solo developer.

• Modeled, sculpted, textured, rigged for UE4

3D Artist / Interior Designer at Rokit Cellphones

California, United States of America

Responsible for space planning and 3d visualizations for the Rokit phones and e-bikes store.

• Created three different building fronts

• Created two different store signs

• Adjacent buildings that are modeled to integrate the renovated look

3D Artist / Interior Designer at Cold Coast Dental

California, United States of America

February 2020 - February 2020

Exterior 3D visualization and designing of a store-sign of a dental clinic.

• Created two additional building fronts

• Design various store-signs with their renewed logo

• Adjacent buildings are modeled to integrate the renovated look

3D Artist / Interior Designer at Woks Group

Antalya, Turkey

Worked on-site and remotely in Woks Group, which is an architecture and woodworking company. Performing projects and crafting furniture, especially in hotel rooms and facility buildings. Design and customize numerous restaurants, cafes, and housing projects. Started in Turkey as a concept designer and 3D visualizer, and continued remotely after moving to Germany.

• Customize furniture and product design

• Numerous 3D visualizations

3D Artist / Interior Designer at Umpe Architecture

Antalya, Turkey

Started as an intern and continued as a 3D visualizer remotely. I chose the

3D visualization path and gained plenty of experience in 3ds max. Designed a variety of housing projects, restaurants, cafes, and stores.

• Mostly, I was responsible for modeling customized pieces in the houses.

• Numerous 3D visualizations